PAT Testing in Yorkshire, Lincolnshire and Manchester.
07834 421090
Hire An Expert!
PAT Testing Specialists in Yorkshire
PAT Test Experts
RS PAT Test offers comprehensive electrical safety testing of plug top appliances. We are fully qualified City & Guilds electrical testers.
Nationwide Coverage
While we primarily focus on testing in the Leeds, Bradford, Sheffield and Yorkshire areas; we do travel further afield to Manchester, Lincolnshire and most of the UK.
Be Safe, Be HSE Compliant
PAT Testing not only protects your employees and customers but also your business from unnecessary legal action and/or a voided insurance policy.
Professional Service
We take our jobs very seriously and aim to offer our clients a competitively priced PAT Testing service that is second to none!
Fully Certified Technicians
All of our electrical testing specialists are qualified to City & Guilds 2377 (Electrical Equipment Maintenance and Testing).
Protect Your Business
More and more businesses are losing money from voided insurance due to failure to comply with health & safety.
We provide fast and affordable PAT testing for your portable appliances.
Why Choose RS PAT Test?
Professionals
You have a duty of care to others but also with respect to your own insurers and the risk they take to underwrite your business. Many businesses are unaware of the insurance implications of not having an up to date portable appliance testing program and how failure to carry out the necessary tests may result in the insurance company failing to pay out if an incident occurs
Competitive Pricing
Our prices are very competitive and we are more than happy to discuss this with you in order to help reduce your annual cost. With this in mind I would be very grateful if you would consider RS Pat Test for your
PAT Testing
needs.
Certificate of Compliance
Should you choose RS Pat Test we will provided you with an individualised report detailing each item tested and a certificate of compliance. If you require any further details or would like a quote please do not hesitate in contacting us.
What is PAT Testing?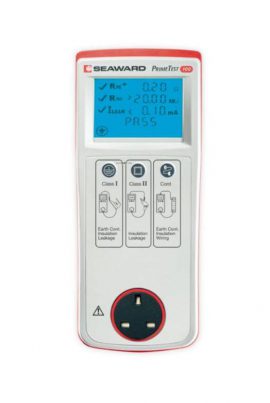 PAT testing is a series of inspections and electrical tests on portable appliances. The Health and Safety Act (1974) places the obligation for testing where:

An appliance is used by an employee.
The public may use an appliance.
An appliance is supplied or hired.
An appliance is repaired or serviced.

The frequency of testing depends on the type of equipment, usage and environment, normally appliances would be tested annually but schools for example may be tested more often, as there is a higher risk.


PAT testing of electrical appliances needs to be an important part of any health & safety policy!